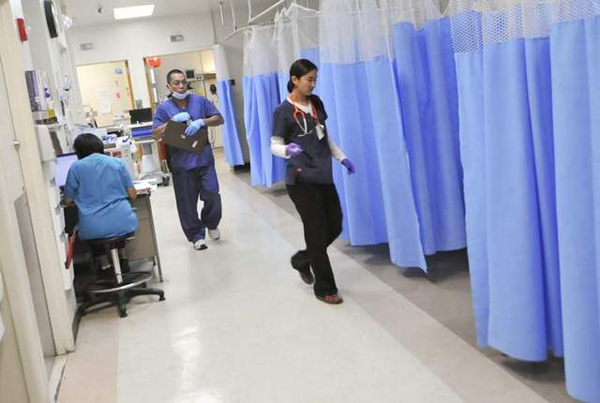 Funding: The medical staff work in the Emergency room of the Guam Memorial Hospital in Tamuning last year. Officials are trying to get a bill passed that could help provide badly needed funding to the hospital. Pacific Daily News file photo
Calvo backs insurance fee

Written by Cameron Miculka
Pacific Daily News
Published on Jan. 22, 2013
Gov. Eddie Calvo yesterday said he supports a bill by Sen. Dennis Rodriguez Jr., D-Dededo, that would require Guam health insurance companies to pay a 4 percent fee on the insurance premiums they collect.
The money collected -- as much as $8.5 million a year, according to Bill 20 -- would help Guam Memorial Hospital pay its debts to doctors and vendors, and also fund a new urgent care clinic at the hospital as an alternative to the emergency room.
Calvo asked the Legislature to pass it quickly. The bill was introduced last Thursday.
He said existing tax breaks given to some insurance companies through the government's qualifying certificate program have not reduced costs and have not had the desired effect of attracting captive insurance companies to the island.
"In the meantime, there is a real need at Guam Memorial Hospital," the governor said in a written statement. "GMH needs these resources to pay down its bills, and this legislation really delivers."
The hospital, for years, has been plagued by millions of dollars in unpaid debts, many more than three months old.
According to data filed with Rodriguez's bill, the hospital's debts to vendors alone surpass $15 million. The hospital's overall debt sat at about $22.3 million as of Jan. 14.
These vendors provide a number of crucial services and supplies to the hospital. These supplies include drugs, medical equipment and food for patients.
Despite efforts by the hospital's administration to pay off its bills, GMH's debt continues to loom over the hospital.
As a matter of fact, in the last five months -- the timeframe for which GMH debt data is available -- the hospital's debt has ballooned from about $19.7 million at the beginning of August 2012.
That's a net increase of over $2.6 million or 13 percent.
And despite the occasional fall in the hospital's debt, it has never fallen below $19 million -- and even peaked at close to $24 million in October.
The hospital's high debt is the result of a number of factors, primarily the revenue it collects -- or rather, doesn't collect -- from its patients. Those include uninsured, "self-pay" patients and patients on public insurance programs such as Medicare.
According to hospital data, self-pay patients owed the hospital close to $166 million in September, the most recent month for which data is available.
However because these patients don't have private insurance and may not be eligible for public programs, hospital financial administrators previously have said the vast majority of that money typically can't be recovered.
Furthermore, because of the federal law that governs Medicare reimbursements, which in turn governs Medicaid and Medically Indigent Program reimbursements, GMH recovers just a fraction of how much it bills these programs.

Urgent care center
Rodriguez's bill also would mandate the establishment of a primary care center or an urgent care center on the hospital's premises.
That facility would be tasked with serving "as a center to treat patients who have an injury or illness that requires immediate care, but are not apparently serious enough to require emergency room attention," according to the bill's text.
The bill allows for GMH administrators to contract one or several physicians or even a private clinic to lease or operate the facility.
This center, said the bill, would operate on the same premise as the hospital at-large, meaning it couldn't turn away Medicaid or MIP patients.
Rodriguez said the center would help relieve the burden of non-emergency patients on the hospital's emergency room.
Calvo agreed with that sentiment, calling the proposed center "a solution to the major problem of emergency room crowding and high ER expenses."
The bill also requires GMH to adopt several reforms in billing, collection and procurement procedures in order to best get a handle on its own finances.