125 Tun Jose Toves Way,
Tamuning, Guam 96913
Mailing Address: P.O. Box 9969, Tamuning, Guam 96931
Phone: (671) 646-5227 or 5228
Fax: (671) 646-5226
E-mail: healthpartners_llc@yahoo.com
Website: http://www.guamhealthpartners.com
Monday: 9 am – 12 noon; 2 pm – 5 pm
Tuesday: 8 am - 2 pm
Wednesday: 9 am – 12 noon; 2 pm – 5 pm
Thursday: 9 am –2 pm
Friday: 9 am – 12 noon; 2 pm – 5 pm
Saturday: 8 am -4 PM
Dr. Edgar Magcalas
Monday: 9 am – 12 noon; 2 pm – 5 pm
Tuesday: 8 am - 2 pm
Wednesday: 9 am – 12 noon
Thursday: 9 am - 2 pm
Friday: 9 am – 12 noon; 2 pm – 5 pm
Saturday: 8 am – 4 pm
Dr. Joel Rubio
Monday: 9 am – 12 noon; 2 pm – 5 pm
Tuesday: 8 am – 12 noon
Wednesday: 9 am – 12 noon; 2 pm – 5 pm
Thursday: 9 am– 12 noon
Friday: 9 am – 12 noon; 2 pm – 5 pm
Saturrday: 8 am – 12 noon

Consultancy Services: By Appointment
What should I bring to my appointment?
Your insurance card, all medications you are currently taking and a referral if this is your first time at Health Partners, LLC

What happens if I miss my appointment?
We require 24 hour notice of cancellations, or there is a $25.00 missed appt fee. We provide a voice-mail system if you are unable to reach us.

What insurances do you accept?
We accept most major medical insurances, and some off island including BlueCross, Cigna and Aetna.

Where are you located?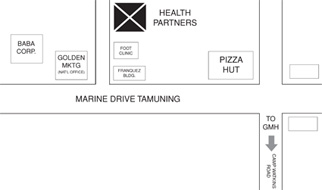 125 Tun Jose Toves Way, Tamuning, Guam 96913

What services do you provide?
We provide Adult Primary Care and Internal Medicine as well as Endocrinology and Infectious Disease consultations.

How do I make an appointment?
For Consultation Services, please provide our office with a referral from your primary care physician. We will then call you to set up an appointment based on the next available time. If you are seeking Primary Care, please call our office or stop by to inquire about the next available times. We also accept appointments via e-mail.

What is the best way to reach you?
You can reach us via phone at 646-5227/8, via fax at 646-5226 or via e-mail at healthpartners_llc@yahoo.com.

WHO: Open to youth and adults who have
lost a loved one to suicide
WHEN: Every 2nd and 4th Thursday
of the month
WHERE: PEACE Office in Hagatna
Contact Debbie Duenas or Michelle
Sasamoto at 477-9079 or 477-2304
for more information.



Trainings will be held at the Marriott Hotel
from 8am - 5pm. Attendance on both
days assigned is mandatory. For registration
and other information, contact Michelle
Sasamoto at 477-2304. Register today.

Training Dates:
• Feb. 7 - 8, 2013
• Mar. 20 - 21, 2013
• Apr. 25 - 26, 2013
• May 23 - 24, 2013
• June 6 - 7, 2013
• July 18 - 19, 2013



Trainings are open to the community, and
will be held at the DOA Training Room in
Hagatna, from 8am - 12pm. For registration
and information, call Audrey Topasna at
477-2304. Register today.

Training Dates:
• Mar. 12, 2013
• Apr. 23, 2013
• May 14, 2013
• June 4, 2013
• July 15, 2013
• Aug. 13, 2013
• Sept. 10, 2013



Call the Tobacco Free Guam Quitline.
Free Call… Free Service…
Freedom from tobacco…






The Tobacco Free Guam (TFG) Quitline offers
free confidential services to youth ages 11
through 17 years old. QuitCoaches are
available to answer questions, help when
you are ready to quit using tobacco, and
support you through the process.