Tobacco Control
Tobacco – the number 1 cause of unnecessary death and disease on Guam.  To help address tobacco-related health disparities among Guam's people, Health Partners, LLC has partnered with ACS, APPEAL, DPHSS, DMHSA and UOG to provide technical assistance to the Guam community in controlling the tobacco epidemic.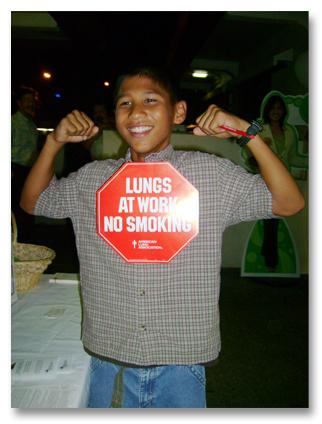 Community strategic planning workshops we've facilitated:
Year 1 Report
Year 2 Report
Year 3 Report
Fact Sheets we've created:
Second Hand Smoke and Business
Second Hand Smoke and Children
Tobacco Vendors – Know the Law
Quitting Tobacco
The Tobacco Industry
Youth Tobacco Use on Guam
Research we've spearheaded:
Community-based participatory research (CBPR) to map tobacco point-of-sale advertising in Guam
Laws and policies we've supported:
Natasha Protection Act (Smoke-free Public Places Act)
P.L. 30-80 increasing tobacco taxes
Bill 267-31 banning candy cigarettes
Cessation training manual and PowerPoint we've updated:
Brief Tobacco Cessation Interventions (BTI) Training Manual
BTI Training Powerpoint
Community Action Plans we've contributed to:
Guam Non-communicable Disease Control Plan 
Guam Comprehensive Cancer Control and Prevention Plan

WHO: Open to youth and adults who have
lost a loved one to suicide
WHEN: Every 2nd and 4th Thursday
of the month
WHERE: PEACE Office in Hagatna
Contact Debbie Duenas or Michelle
Sasamoto at 477-9079 or 477-2304
for more information.



Trainings will be held at the Marriott Hotel
from 8am - 5pm. Attendance on both
days assigned is mandatory. For registration
and other information, contact Michelle
Sasamoto at 477-2304. Register today.

Training Dates:
• Feb. 7 - 8, 2013
• Mar. 20 - 21, 2013
• Apr. 25 - 26, 2013
• May 23 - 24, 2013
• June 6 - 7, 2013
• July 18 - 19, 2013



Trainings are open to the community, and
will be held at the DOA Training Room in
Hagatna, from 8am - 12pm. For registration
and information, call Audrey Topasna at
477-2304. Register today.

Training Dates:
• Mar. 12, 2013
• Apr. 23, 2013
• May 14, 2013
• June 4, 2013
• July 15, 2013
• Aug. 13, 2013
• Sept. 10, 2013



Call the Tobacco Free Guam Quitline.
Free Call… Free Service…
Freedom from tobacco…






The Tobacco Free Guam (TFG) Quitline offers
free confidential services to youth ages 11
through 17 years old. QuitCoaches are
available to answer questions, help when
you are ready to quit using tobacco, and
support you through the process.